[Varian Fry Institute Home] [Chambon Foundation Home]
---
<![if !vml]><![endif]><![if !vml]><![endif]>

stamp issued in honor of Bingham

Hiram Bingham IV
righteous American vice consul

Fred Buch, here in 0000 during production of And Crown Thy Good, with affidavit received from Bingham, "an angel"
Hiram ("Harry") Bingham IV
1904-1988
In that challenging time, Hiram Bingham IV cared.
Varian Fry once wrote: "He has a heart of gold. He does everything he can to help us, within American law..." Inscribing for Bingham, his memoirs of that time, Surrender on Demand, Fry would call him his "partner in the crime of saving lives."
It is unlikely that there were many other members of the American foreign service at that time who saw the situation as "Harry" Bingham put it in a letter to his wife, shortly after the start of World War II: "We can only pray that the natural goodness of men will fight off the plague before it spreads too far."
Prior to Fry's arrival, Bingham had been particularly helpful to famed anti-Nazi refugee writer Lion Feuchtwanger and his wife, at the notable urging of Eleanor Roosevelt, and he worked with other organizations as well.
Though Bingham is best remembered as Fry's invaluable ally, he also provided help to a number of other refugees who might have been doomed without it, including ever-grateful engineer Fred Buch and his family.
History should record that in a consular corps that then displayed singular cold-heartedness towards refugees from Naziism and towards Jews, Hiram Bingham IV stands out for his goodwill.
It is regrettable that the credit due "Harry" Bingham has been undermined by recent excessive claims on his behalf, most egregiously by the suggestion that Fry and Bingham should be jointly credited for the achievements of the Fry rescue mission. The mission was run by Varian Fry. Many others, including fellow Americans Miriam Davenport Ebel, Mary Jayne Gold, and Charles Fawcett, played notable roles in Marseille as well.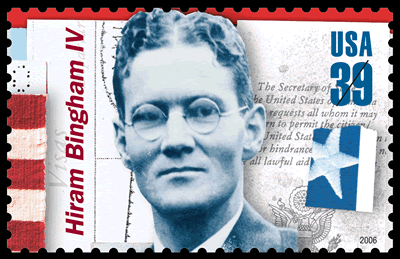 Son Robert Kim Bingham waged a successful stamp drive in honor of his father.
Son Bill Bingham--one of eleven children born to Harry and Rose Bingham--has been particularly active in preserving the memory of his father, and has made important contributions to the Varian Fry Institute's upcoming documentary Varian Fry in Marseille, which will recall Hiram Bingham's important role in the rescue effort. Bill Bingham and siblings John Bingham and Anthony Thomas Bingham were interviewed for the upcoming documentary.
Their Father Was an Unsung Hero of the Holocaust by Dr. Rafael Medoff and Dov Fischer, Esq
Unfortunately, in texts such as this, the Wyman Institute has championed the mistaken notion that Fry and Bingham together "managed to issue visas and travel documents that saved the lives of an estimated 2,500 refugees."
U.S. Diplomat Who Helped Save Jews From the Nazis to be Honored on Postage Stamp
News Release from The David S. Wyman Institute for Holocaust Studies, August 12, 2005
"Hiram 'Harry' Bingham IV, a U.S. diplomat who risked his career to help save more than 2,000 of the world's leading writers, musicians, and artists --most of them Jewish refugees--from the Nazis, will be honored on a U.S. postage stamp.
Hiram Bingham IV indeed played an important role in the Fry rescue mission.
Bill Bingham talks about his father on All Things Considered, June 27, 2002.
"Lynn Neary talks with Bill Bingham about his father, Hiram Bingham IV, who will be honored with a special posthumous award for constructive dissent from the American Foreign Service Association. During his time as a Foreign Service Officer in Marseilles, from 1940-41, Hiram Bingham issued over 2,500 visas to Jews and other anti-Nazi refugees, in violation of a State Department anti-refugee policy in place at the time."
We do not know that basis for this figure.
New Stamp To Honor WWII Envoy: Bingham Defied Policy To Help Jews Escape by Christopher Lee, Washington Post, May 25, 2006.
This article states that "Harry" Bingham's actions in Marseille in 1940-41 won him "the undying gratitude of the more than 2,000 refugees he helped save by issuing them travel visas and false passports." While mentioning Fry and Fry's initial list of a few hundred names, the article asserts that Bingham "went much further, helping thousands of Jews to escape."
The claim that
Newton Woman Helps Diplomat Get Stamped by Gary Band, Jewish Advocate, June 1, 2006
This article furthers the unsubstantiated claim that "Harry" Bingham "saved some 2,000 Jews from the Holocaust." It never once mentions Varian Fry.
Biographical Data (pending)
Los Angeles Times, Sept. 27, 2001, "A Tie That Binds Jews and a Special Family"
Letter from Pierre Sauvage, Sept. 28, 2001, about the above Los Angeles Times article
Congressman Rob Simmons introduces bill honoring Hiram Bingham IV
Robert Kim Bingham's successful stamp drive
---
[Varian Fry Institute Home] [Chambon Foundation Home]
[email us] [contact information] [table of contents] [search] [feedback] [guest book] [

link to us?]Link to Chambon Foundation?
© Copyright 2006, Chambon Foundation. All rights reserved. Revised: February 12, 2008
---